So after making my way through Amy McAuley's Violins of Autumn, it seemed only fair to make a list of World War II books that I actually did enjoy…or at least find deeply accurate to history. It's a fascinating topic and makes for some thrilling (and sometimes tragic and deeply introspective) reading. So! Here's the list.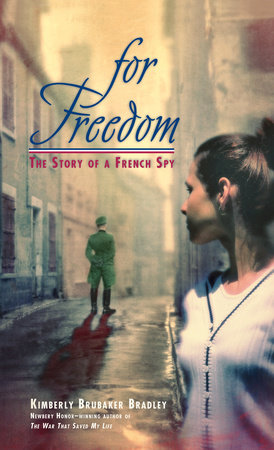 For Freedom: The Story of a French Spy by Kimberly Brubaker Bradley: I seriously loved this one. It was deeply suspenseful but with very little shown violence after a rather gory opening. Suzanne was deeply likeable and kept her head about her the whole time she was involved in the Resistance, mistakes and all. She always knew who she could trust, and who she didn't dare bring into danger. The book not only captures the vibe of the struggles in occupied France, it plunges headfirst into what it actually was like for a spy in a city teeming with enemy soldiers. And Suzanne has character–a life outside of war–she's an opera singer! The best part? It's based on a true story.
Nick of Time by Ted Bell: (not to be confused with the 1995 movie with the same name) If you're in the mood for something with loads of action (and maybe a little too much violence), be sure to check out this middle-grade novel by an established adult thriller writer. Because if you're going to go off the rails of what's historically accurate, do it in style! Throw in some pirates, Admiral Lord Nelson, and DaVinci time travel atop the pile of a Nazi-fighting, adrenaline-chocked, maritime, perfect boy adventure story. Though in all honesty, this thing is researched exceptionally. In all the eras of history the protagonist finds himself in. Don't be surprised if you've chewed off all your fingernails from nerves by the end.
The Time Pirate by Ted Bell: If you fell in love with Nick of Time, follow up the adventure with more pirates, the American Revolution, and good old-fashioned WWII airplane raids by our favorite Nicholas McIver. I was utterly mesmerized by all the plane details (a personal weakness on the list with snarky thief characters and gooey-good fantasy). The characters are every bit as good as in the first book, and the adrenaline-pumping action might actually be even better.
The Hiding Place by Corrie Ten Boom: A true story by an incredible woman. Brace yourself, because she doesn't leave a single detail out when it comes to her experiences. They may be too disturbing for young readers. But so much of the story is also about her life as a watchmaker, about her faith, how she eventually came to hide the Jews in her home and become part of the underground movement. About the people she met along the way who became so much like family. Even though it's about Nazis and all the horrors and loss and death that came with it, The Hiding Place will leave you feeling that it's okay to live on instead of with the cloud of depression so many of these sorrowful stories create.
Milkweed by Jerry Spinelli: I read this one immediately before The Hiding Place. Strange to say, even though the violence is toned down for a middle-grade audience, I needed The Hiding Place to sort of cheer me up afterward. Milkweed leaves you with a lot of unresolved pain through the eyes of a little Polish boy who lived through and escaped the Holocaust after being adopted by a Jewish family. I fell in love with the poor broken little character. His irrepressible voice, his overwhelming childish ignorance. He's the kind you want to give a hug to at every point in the story. And Milkweed also tackles the painful topic of what happens to those who survive? How can you justify living when so many others died? Intended for middle-grade or not, it's a tragic one you'll want to approach with caution. Probably a box of cookies and some tissues aren't a bad idea either.
Things We Couldn't Say by Diet Eman: Another true story by another truly incredible woman. I was pretty young when I started reading this one, so I bowed out soon after Diet entered prison. That being said, I'll probably go back and read the rest of it someday. Diet is in her twenties when Holland is occupied, so she's a bit more spunky and stubborn than Corrie Ten Boom. I love her for that. Corrie can get a little too perfect at times, but Diet feels human. The sweet romance with her fiancé, the stories of how she did what she did and why–I had the chance to hear her on the radio once a few years ago, and I'm not sure I'll ever forget listening to the stories she told. She knew what it meant to be brave. What better way to honor this brave woman who passed away last year than to make sure the things she couldn't say are never forgotten?
The Fences Between Us by Kirby Larson: A really enjoyable volume of the Dear America series that tackles the uncomfortable topic of Japanese American internment during WWII. The main character Piper is realistic and loveable (and spunky and spiteful at times), and it's awesome to see her grow as a character as the book progresses. The story itself shows how the boundaries of hero and villain are not always as clear as propaganda might make them. Terrible and wonderful people exist in every nation and every race.
One Eye Laughing, the Other Weeping by Barry Denenberg: If you're looking for a story told from the perspective of a young Jewish girl from Austria, this might be for you. Some friends loaned me this Dear America years ago, and like MIlkweed, it's toned down for a younger audience, but the sense of horror is still there (betrayal, strong language, suicide, be forewarned, it's not exactly light reading). Especially if you know enough about the era to read between the lines. One Eye Laughing, the Other Weeping asks the question of what would happen to a Jewish girl who looked like the ideal "Aryan perfection?" What could she do so many others couldn't?
My Secret War by Mary Pope Osborne: This one is fascinating just because most people mistakenly hold the idea Nazi forces never set foot on U.S. soil. Yup, that's right! Madeline Beck's Dear America diary about German forces on Long Island is based on an actual event–and if that isn't enough to pique your curiosity, then perhaps historical fiction isn't the genre for you? It's not the strongest book on the list, but the concept is mesmerizing. And it turns out Mary Pope Osborne can write some pretty good stories even if they don't include, say, a magic tree house.
Molly: An American Girl: You know we can't leave the spunky ten-year-old off the list in her adventures on the home front! Molly is a sweet starter read for kids just beginning to learn about WWII. Very accurate, but without the violence and horrors that come when discussing the war itself. Instead, Molly offers the perspective of a character thrown into the story without being a hero–just figuring things out, childlike and human.
So that's my list, more or less. You'll notice some classics like Anne Frank's diary or Boy in Striped Pajamas didn't make it onto my list. Simple reason for this.
I am a coward. I can only take so much before even I crack and start to cry. So I try to pick books where at least a few of the characters survive.
We all know it was a dark time in history. But I like happy endings. Believing in fairytales. I like to know that there were always some good things. Making life worth living after all.
If I left any of your favorites off the list, feel free to let me know. These are just from the sampling I've stumbled across in my reading. If you have a book you love, please, please about it!
As always, happy reading.